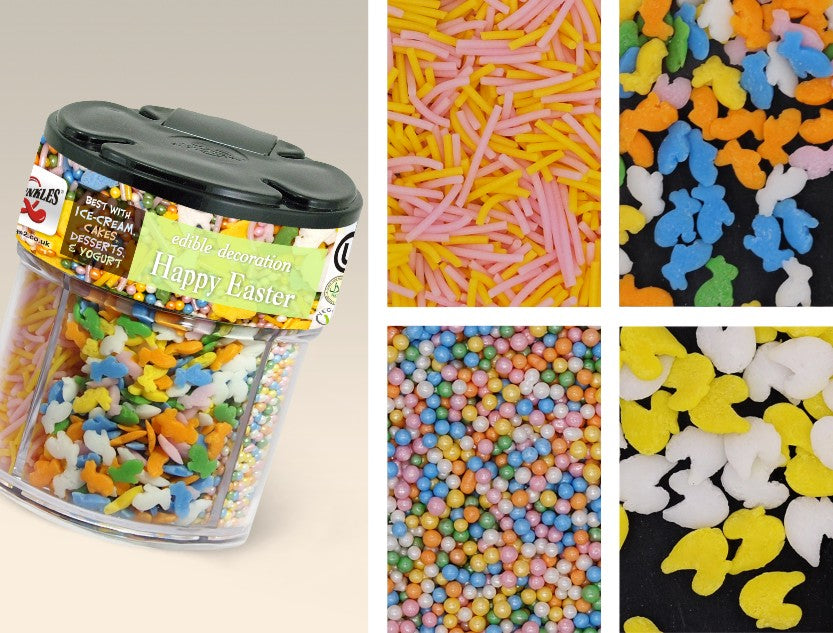 Happy Easter - 4 in 1 Gluten Free Dairy Free Sprinkles Cake Decoration
Product Code : 1615
Packing : plastic bottle
Available Size :  2.3 oz (65 g)
Product Life : 18 months
Storage :
Store in a cool and dry place. Avoid high temperatures, humidity , sunlight exposure, chemicals and strong odors.Must be kept on pallets and never be in direct contact with the floor and/or walls.
Contains
Pastel Rainbow Confetti  Rabbit shapes(products size approx 7mm)
Pearlized Pastel Rainbow Nonpareils
pink & orange sprinkles
white & yellow confetti ducks (products size approx 10mm)
Suitable for
* Vegan consumers
* Kosher consumers
* Halal consumers
This product is with
* Soy free
* No Gluten
* No GMO
* Nuts Free
* No Dairy Products
* No Hydrogenated Fat
ALL NATURAL INGREDIENTS !
Festive multi-colored assortment add the finishing touch special for the dessert and cake in Christmas, halloween and birthday parties.
Cane Sugar, Potato Starch, Corn Starch, Maltodextrin, Vegetable Fat (Rice Bran Oil), Lemon Juice, Spirulina Extract, Colours (E163-Anthocyanins, E160c-Paprika, E100-Turmeric, E162-Beetroot Red, E171 -Titanium Dioxide), Glazing agent (Carnauba Wax), Anti-caking agent (Potassium Aluminum Silicate)
---
---
More from this collection