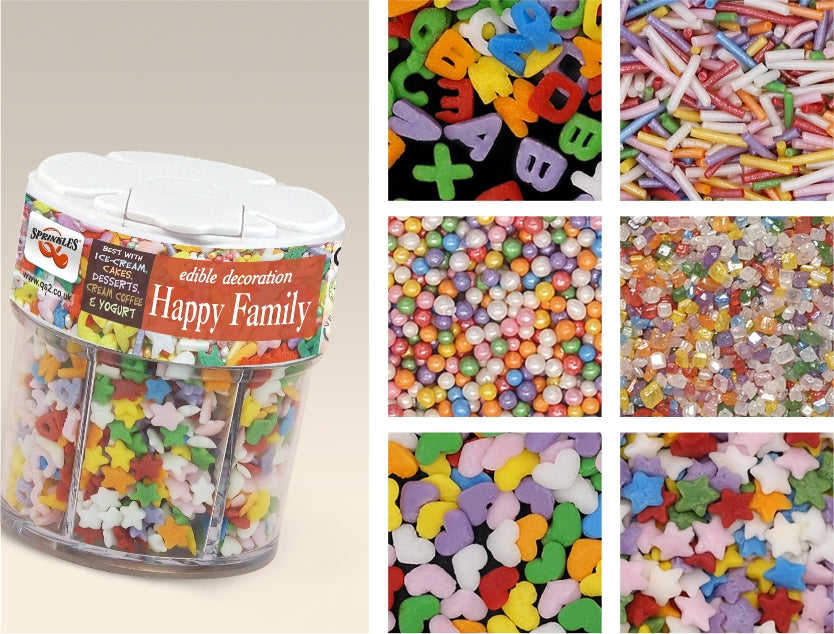 Happy Family - 6 Cell Jar Non GMOs Kosher Certified Sprinkles For Cake
Product Code : 763
Packing : in plastic bottle
Available Size :  2.5oz (71 g)
Product Life : 18 months
Storage :
Store in a cool and dry place. Avoid high temperatures, humidity , sunlight exposure, chemicals and strong odors.Must be kept on pallets and never be in direct contact with the floor and/or walls.
Contains
Shimmer rainbow sprinkles, 
Rainbow confetti alphabets (products size approx 7mm), 
Shimmer rainbow nonpareils,
Shimmer rainbow sugar crystals,
Rainbow confetti mini heart(products size approx 6mm), 
Rainbow confetti starrs(products size approx 6mm), 
Suitable for
* Vegan consumers
* Kosher consumers
* Halal consumers
This product is with
* Soy free
* No Gluten
* No GMO
* Nuts Free
* No Dairy Products
* No Hydrogenated Fat
ALL NATURAL INGREDIENTS !
They're not limited to cake-topping icing decorations. Sprinkle them on iced or candy-dipped cookies, add to the icing edges of snack cakes, or simply scatter them around the goodies on your dessert platter as fun accents.
Cane Sugar, Potato Starch, Corn Starch, Maltodextrin, Vegetable Fat (Rice Bran Oil), Lemon Juice, Colours (E163-Anthocyanins, E160c-Paprika, E100-Turmeric, E162-Beetroot Red, E171-Titanium Dioxide), Glazing agent (Carnauba Wax), Anti-caking agent (Potassium Aluminum Silicate), Spirulina Extract
---
---
More from this collection